SIZING RECOMMENDED BY WEIGHT FOR 30-50 LBS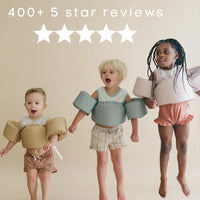 Don't Take Our Word For it!
5 STARS!!!   I'M IN LOVE!  I WAS SO EXCITED TO FIND THIS PRDUCT AND AM TRULY SO IMPRESSED BY NOT ONLY THE STYLISH DESIGN (SO CUTE) BUT ALSO THE OVERALL QUALITY!  WE WERE AT THE POOL AND SOMEONE STOPPED US TO ASK WHERE WE FOUND THESE BECAUSE THEY WERE SHOCKED AT HOW CUTE THEY WERE!
-CHRIS G